Alabama Hills are a "range of hills" of rock formations of the eastern slope of the Sierra Nevada Mountains in the Owens Valley, west of Lone Pine in Inyo County, California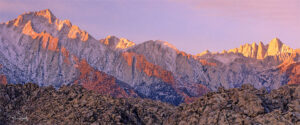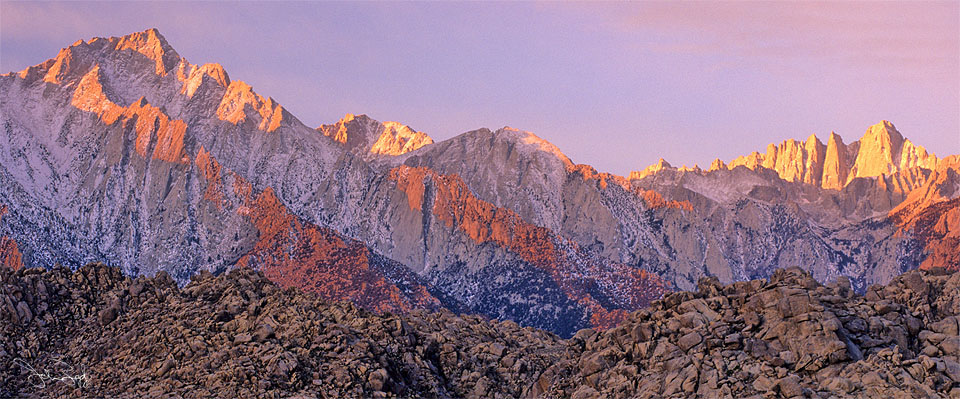 The Alabama Hills were named for CSS Alabama. When news of the Confederate warship's exploits reached prospectors in California sympathetic to the American Civil War Confederates, they named many mining claims after the ship, and then the name came to be applied to the entire range. Then, when Alabama was sunk off the coast of Normandy by
USS Kearsarge in 1864, prospectors sympathetic to the North named a mining district, a mountain pass, a mountain peak, and a town after the Kearsarge.
The rounded contours of the Alabamas contrast with the sharp ridges of the Sierra Nevada to the west. Though this might suggest that they formed from a different orogeny, the Alabamas are the same age as the nearby Sierras[citation needed]. The difference in wear can be accounted for by different patterns of erosion.
Mount Whitney, the tallest mountain in the contiguous United States, towers several thousand feet above this low range, which itself is 1,500 feet (460 m) above the floor of Owens Valley. However, gravity surveys indicate that the Owens Valley is filled with about 10,000 feet (3,000 m) of sediment and that the Alabamas are the tip of a very steep escarpment. This feature may have been created by many earthquakes similar to the 1872 Lone Pine earthquake which, in a single event, caused a vertical displacement of 15–20 feet.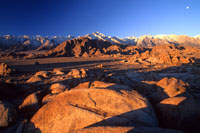 There are two main types of rock exposed at Alabama Hills. One is an orange, drab weathered metamorphosed volcanic rock that is 150-200 million years old. The other type of rock exposed here is 90 million year old granite which weathers to potato-shaped large boulders, many of which stand on end due to spheroidal weathering acting on many nearly vertical joints in the rock.
Dozens of natural arches are among the main attractions at the Alabama Hills. They can be accessed by short hikes from the Whitney Portal Road, the Movie Flat Road and the Horseshoe Meadows Road. Among the notable features of the area are: Mobius Arch, Lathe Arch, the Eye of Alabama and Whitney Portal Arch.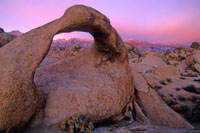 The Alabama Hills are a popular filming location for television and movie productions, especially Westerns set in an archetypical "rugged" environment. Since the early 1920s, 150 movies and about a dozen television shows have been filmed here, including Tom Mix films, Hopalong Cassidy films, The Gene Autry Show, and The Lone Ranger. Classics such as Gunga Din, Springfield Rifle, "The Violent Men" (1955 film), Bad Day at Black Rock' (1955), the Budd Boetticher/Randolph Scott "Ranown" westerns, How the West Was Won.
More recent productions such as Tremors and Joshua Tree, were filmed at "movie ranch" sites known as Movie Flats and Movie Flat Road. In Gladiator, actor Russell Crowe rides a horse in front of the Alabamas, with Mount Whitney in the background, for a scene presumably set in Spain. Star Trek Generations was filmed here in addition to Overton, Nevada and Paramount Studios. This range was one of the filming locations for Disney's Dinosaur. More recently, many parts of the films Iron Man and Transformers: Revenge of the Fallen were filmed here.